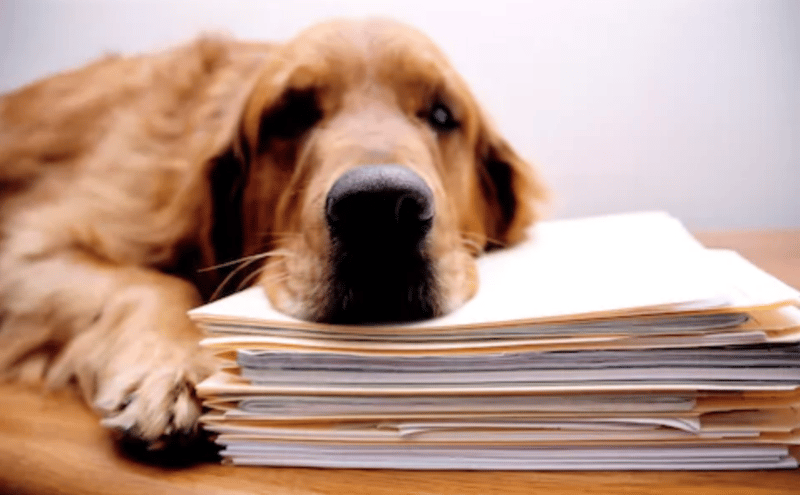 "I spend hours each month reconciling my credit card statements "
That's a waste of your valuable time.
"We get a big line at the end of day as my staff are trying to process payments from customers"
It's expensive to have extra staff on hand then to keep things moving. It's stressful and risky with all those dogs in the front waiting to check out.
"My staff often enters the wrong amount in the card-processing system, and I have to go in and fix it for the customer"
Well, that's uncomfortable - and a pain to have to fix them...
What if you could cut transaction time down by 50%? What if we eliminated all those errors in the first place? What if your card-processing statements were already reconciled in your POS? What if you boosted cash flow with automated payments?
FACT: Most Gingr-apps integrate card-processing for speed, convenience and better cash-flow.
Gingr's Pawsitive-Payments-processing Gives YOU:
Auto-syncs with the card-reader to auto-populate amount due, and store transaction details and signature in the customer's transaction history.

easy tip/gratuity collection and reporting,

store credit card information securely, PCI compliant,

collect online deposit payments from customers,

customers can purchase packages online,

subscriptions - auto charge cards & renew package credits,

store receipts digitally, email receipts

easy refund processing, refunds right back to card used.

Auto-batch card payments, batch reports are sync'd right into Gingr for easy reconciliation.

Next-day deposit (all transactions up to 9:50PM ET).
Worried about rates? We match the rates you are paying today, so you don't have to sacrifice rates for the benefits of integrating!
And, with no commitment or contract = No Risk!
Choose from the following modern payment devices: (purchase or rent through our processor)
Ingenico iscTouch 250
Counter-top or stand-mounted. Rated for .5 Million swipes/dips. Supports Apple Pay & Google Pay. Supports multi-media (videos).
Purchase for $500 or rent for $20/month.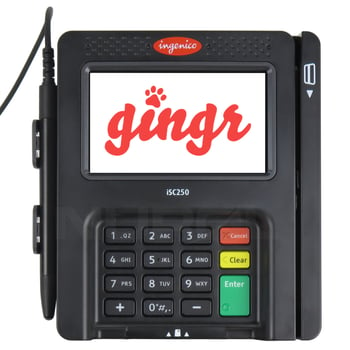 Ingenico iSmp5
About the size of a smart-phone, this sleek, hand-held device gives you mobility throughout your facility - even curbside. Pair it up with a 6" tablet (sold separately) and holder, and you have a streamlined, mobile software-and-payment solution.
Enables all payment methods.
Purchase for $435, or rent for $25/mo.
Order the holder separately: http://www.handeholder.com/mozee_iSMP4_holster.html
Order the tablet-holder combo separately: http://www.touchwindow.com/p/KIT351655.html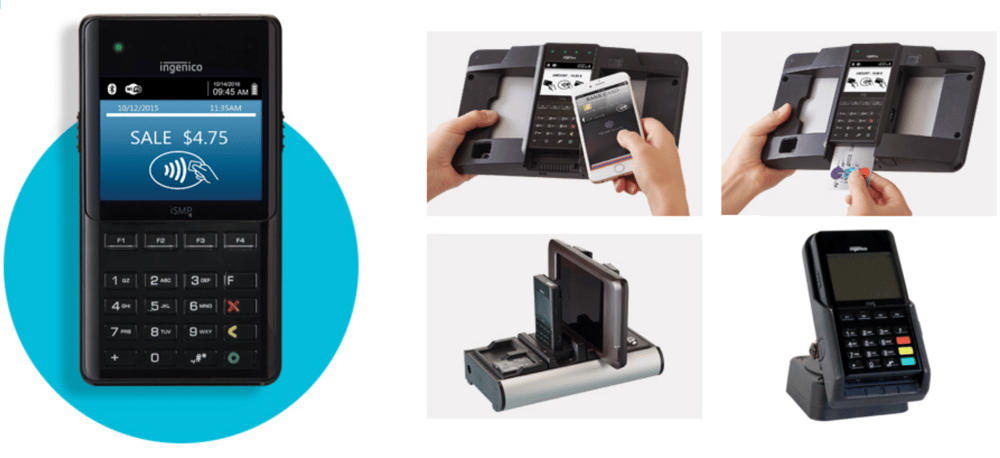 Ingenico ipp350
Sleek counter-top design. Fast & secure. Supports ApplyPay & Google Pay.
Purchase for $360 (no rental option).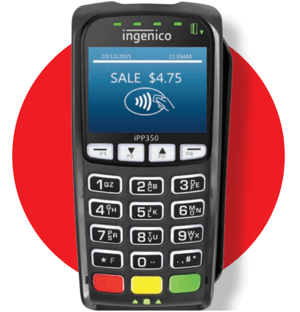 Ready to start saving time and money?
Start your merchant-account application and order your equipment HERE