PACCC-Certified Professionals
Get Two Free Months of Gingr!
Pet-Care Software by Gingr
Dog daycare, boarding, grooming and training software that helps you save time and staffing costs, while filling your schedule — so you can focus on what's most important (woof, woof).
Gingr PreCheck
The first of its kind in pet-care software
Similar to checking in before a flight, our new industry-leading Gingr PreCheck functionality is designed to allow pet parents to complete a detailed check-in form before arrival, reducing errors and saving time at the front desk with a streamlined check-in experience.
Pet Parent Mobile App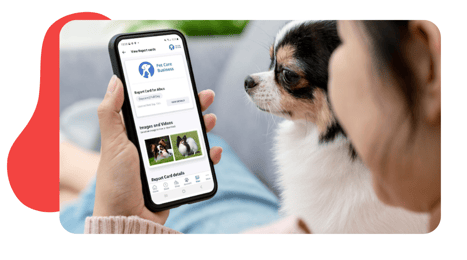 With the Gingr for Pet Parents app, pet parents can easily book from the app, update their profiles, upload vaccinations, manage agreements, pay and view their invoice history, and much more.
The Gingr for Pet Parents App is included with every subscription for free in the Apple and Android app stores.
Manage Reservations, Services, and Retail In One Place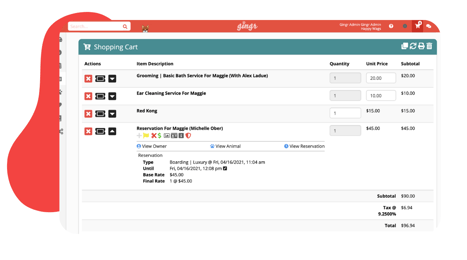 Track appointment details in one place to keep your staff on the same page. Appointment cards track all of your notes over time. View appointment history, warnings, and pricing in one place, and schedule the next appointment while the client is right there.
Online Booking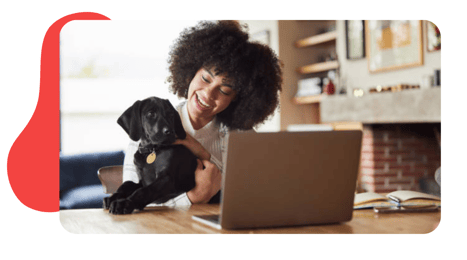 The customer portal connects you with pet owners 24/7, 365 days a year. Customers can self-register, request appointments, select service add-ons, purchase packages, and pay deposits and invoices.
Run Your Pet-Care Business Smoothly

Report Cards
Give pet parents fun, informative, and much-adored report cards. Easily share report cards via email, or print them out so the pet parent can hang them on the fridge.

Make your staff and clients' lives easier with online booking. Clients can book, cancel and modify appointments with just a click.

Speed up the intake process with digital agreements. Pet parents can quickly and easily sign owner agreements from their laptop, phone, or tablet.